Guys… words cannot express how excited I am about my new studio in downtown Geneva, IL.
My lovely assistant, Karla, just welcomed a niece into the world shortly before we took off for the Christmas holiday!  So naturally we had her in the studio for a few test shots, as well as my first informational blog on newborn photography for those of you who are here to learn!
Babies with jaundice can be a bit of a challenge to edit, because if you take too much coloring out of their photos, they tend to look blue, or unnaturally pale.  This little dumpling was Jaundice, and also of hispanic descent, which can often times have a bit of a warm undertone in shadows.
Most of the skin tone editing that I did with this particular image was done in Lightroom.  I use photoshop mainly for fine details like skin smoothing, filling in backgrounds, etc. The rest of the work I do is in Lightroom, but everything I do in there can be done in Photoshop, if you're not a lightroom kinda person!  To tone down her jaundice coloring, I tweaked around the orange and yellow saturation tabs, as well as boosted the luminance on her warmer tones.  Sometimes with extreme warm undertones, tweaking your Primary colors under Camera Calibration can help – just be careful to be very slight with those types of adjustments, as it can change the entire look to a photo.
Here is a before and after of Jade's skin tone edit:
SOOC (Straight of out of Camera – No editing):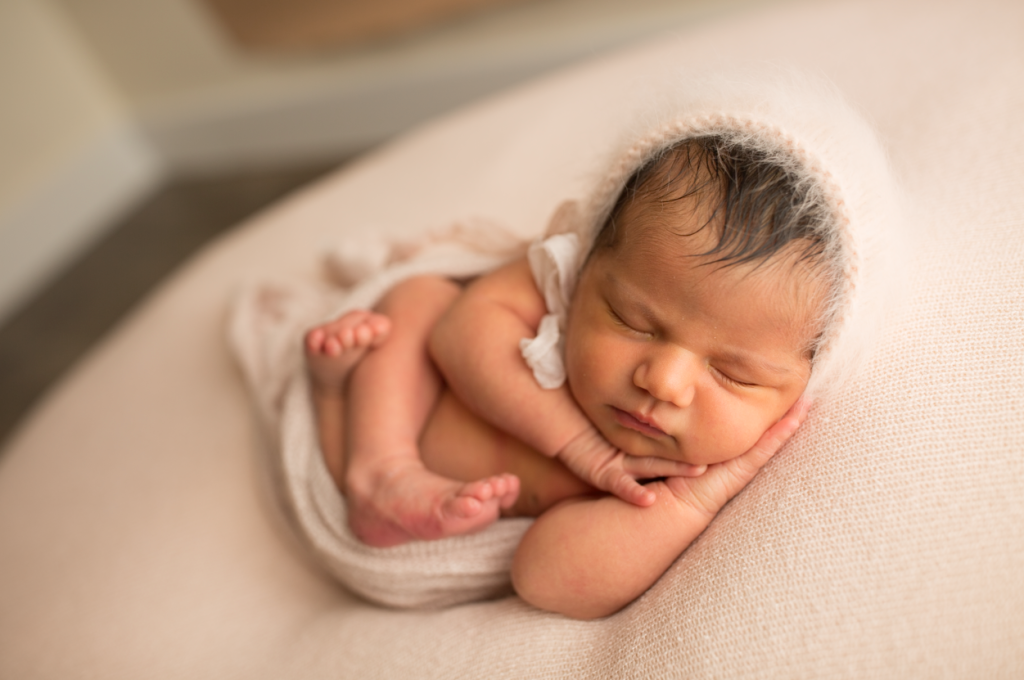 Final Edit: